MSC Blog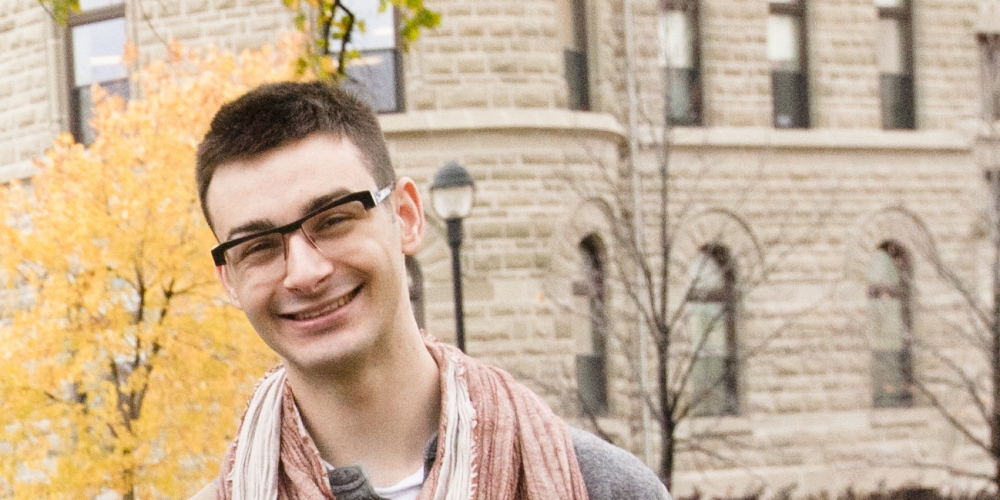 Analyzing conflicts and finding solutions
Danäé Smelsky-Rémillard really enjoys problem solving and analyzing current issues and events.
Pursuing a Conflict Resolution Studies (CRS) degree at Menno Simons College (MSC) provides him with skills and opportunities to analyze conflicts using a multi-faceted approach.
"CRS combines a lot of different disciplines in one, with a strong element of problem solving," says Smelsky-Rémillard. "You analyze the situation, the history, current status, how people feel about it, and the key elements of the problem. Then you propose a solution based on that analysis."
The CRS program at MSC seeks to understand the nature and dynamics of human conflict, and to look at appropriate alternatives for dealing with conflict in ways that develop healthy relationships and prevent violence.
Smelsky-Rémillard has taken courses covering a range of topics including sociology, human geography, global studies, and more. The CRS program brings these and aspects of other disciplines together to develop and strengthen students' critical thinking and life skills, he says.
"CRS is something you can use in your personal life, not only for a career in conflict resolution. CRS has helped me take a step back [in conflicts] and better evaluate what my options are and how to approach a situation."
Smelsky-Rémillard participated in last year's Insight Mediation workshop led by Dr. Cheryl Picard, which addressed the complexity of conflict by integrating theories of social action with micro communication skills and conflict resolution strategies.
The workshop encouraged Smelsky-Rémillard to approach conversations about conflict with confidence, drawing on his skills and abilities to assist in situations of conflict.
Smelsky-Rémillard learned about MSC and the CRS program when he took a CRS class while attending the University of Winnipeg Collegiate. The idea of problem solving appealed to him as did the fact that CRS combines both theoretical knowledge and practical skills.
For those who are interested in studying conflict resolution, Smelsky-Rémillard says, "[At MSC], you have the opportunity to really engage in discussions with others and get involved with the community. Here you can be yourself—feel free to engage with others."
Ellen Paulley is the Writer & Social Media Coordinator for Menno Simons College
Print This Blog Post