Faculty
John Derksen
Associate Professor of Conflict Resolution Studies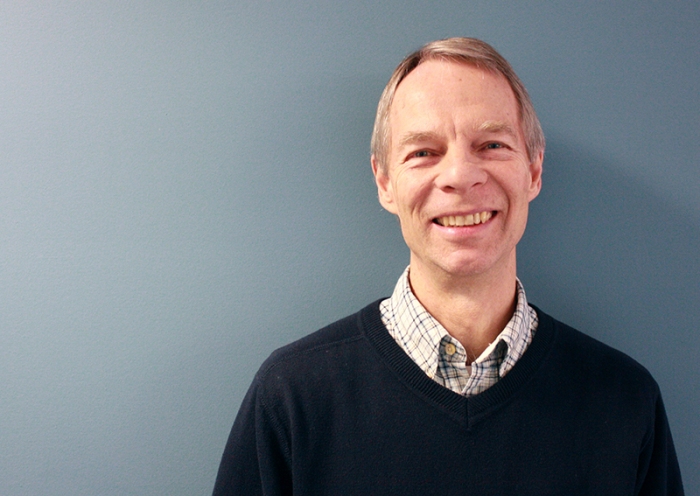 | | |
| --- | --- |
| | Conflict Resolution Studies |
| | |
| | 204.953.3849 |
| | MS225 |
John Derksen's academic background is in History, Religion, and Conflict Resolution Studies. Previously he taught in Cairo, Egypt; Yerevan, Armenia; and Beirut, Lebanon.
Having lived outside North America for 20 years, and having encountered the devastation of poverty, interpersonal violence, and war, he is committed to cross-cultural and interfaith understanding, and to nurturing peace with justice.
John's academic interests include the history of peacemaking, religion and conflict, Islam and Christianity, and Reformation history. Current research is on the history of nonviolence and peacebuilding worldwide.
Outside of work, John is active in interfaith dialogue and offers workshops on Christian-Muslim relations. He enjoys music, sports, camping, coffee with friends, and playing with his six delightful grandchildren.
Areas of Teaching
Conflict Resolution Studies, History of Peace and Nonviolence
Education
BA (Hons) in History, MA in Theology, MA in History, PhD in Early Modern European History
Work in Detail
Teaching
Introduction to Conflict Resolution Studies
Conflict and Culture
Conflict, Faith, and Community
History of Peace and Nonviolence
Models for Conflict Transformation
Research
Books
From Radicals to Survivors: Strasbourg's Religious Nonconformists over Two Generations, 1525-1570. Utrecht: Hes & De Graaf Publishers, 2002.
Selected Articles
"The Roots of Anabaptist Empathetic Solidarity, Nonviolent Advocacy, and Peacemaking," in The Historical Seeds of Mennonite Interreligious, Interethnic, and International Peacebuilding, ed. Andrew P. Klager (Eugene, OR: Wipf and Stock, 2015), 13-36.

"Voice, Leadership, and Influence among Spiritualist and Anabaptist Women in Strasbourg, 1525-1570, Mennonite Quarterly Review 88, no. 4 (2014): 423-50.

"Why Did Early Christians Turn Violent? The Case of Egyptian Monks." Near East School of Theology Theological Review 31, no. 1 (2010): 60-91.
"Canada's Role in Afghanistan: Submissions to the Manley Panel." Peace Research: The Canadian Journal of Peace and Conflict Studies 39, nos. 1-2 (2007): 94-98 (with Rick McCutcheon).
"A Costly but Influential Counterculture: A Review of Four Works on War-time Pacifism." Journal of Mennonite Studies 25 (2007): 161-70.
"Peacemaking Principles Drawn from Opposition to the Crusades, 1095-1276." Peace Research: Canadian Journal of Peace Studies 36, no. 2 (2004): 41-58.
"Nonviolent Political Action in the Protestant Reformation: Strasbourg's Ziegler Brothers." Mennonite Quarterly Review 78, no. 4 (2004): 543-56.
"Wrangling with the Authorities: Anabaptist Survival in the Village of Börsch, 1525-1555." Journal of Mennonite Studies 19 (2001), 195-216.
"Schwenckfeldians in Strasbourg after Caspar Schwenckfeld, 1533-1562." Mennonnite Quarterly Review 74, no. 2 (2000): 257-94.
"Reasons for Dissent among Strasbourg's Religious Nonconformists, 1536-1569." Archiv fur Reformationsgeschichte 90 (1999): 188-210.
"What Shall We Do with Our Enemies?: A Christian Pacifist Perspective." Near East School of Theology Theological Review 18, no. 1 (1997): 128-53.
"Hans Adam and Jorg Ziegler: Strasbourg's Radical Tailors." Journal of Mennonite Studies 15 (1997): 31-43.
"Religious Radicals in Strasbourg: The Case of Wangen, 1532-1569." Mennonite Quarterly Review 70 (1996): 281-97.
"Deus non vult: Opposition to the Crusades in Europe, 1049-1274." Near East School of Theology Theological Review 16, no. 2 (1995): 98-125.
"Melchiorites after Melchior Hoffman in Strasbourg." Mennonite Quarterly Review 68 (1994): 336-50.
Print This Page