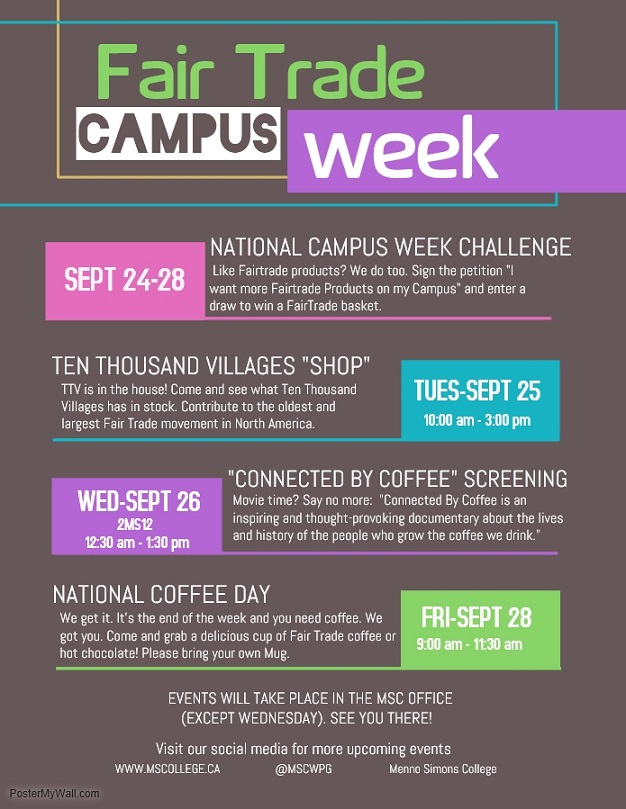 Fair Trade Campus Week!
This week we have a variety of activities you can participate in to celebrate Fair Trade Campus Week. The National Campus Week Challenge will run all week and we encourage you to sign the petition to encourage more Fair Trade products at MSC and a chance to win a Fair Trade basket.
Other events include:
Ten Thousand Villages 'pop up' shop – Tuesday, September 25, 10:00 AM-3:00 PM
Movie screening: "Connected by Coffee" – Wednesday, September 26, 12:20-1:20 PM, 2MS12 **Tickets are $1; MSC Student Services will match every ticket sold and funds will be donated to a Fairtrade organization.
National Coffee Day – Friday, September 28, 9:00-11:30 AM (bring your own mug!)
Events on Tuesday and Friday will take place in the MSC Reception area.
For information about arranging or coordinating a student event, contact msc.studentservices

:

@

:

uwinnipeg.ca.
Print This Page